I had a pretty good weekend. I started off Saturday with a great haircut and then I went to a friend's house. We knew each other in high school and every so often in the last 5 years or so(?)we have run into each other, but never too much more than "hi, how are you" because I think it was usually crowded situations. They didn't lend themselves to really sitting and talking. I found her on Facebook and we have reconnected. I went to her house to pick up one carder and hung out for a while with her and her two children and had breakfast and great conversation. It was really wonderful.
After that I had ummm...girl business, but then after that I went to Zine Fest in the Riverwest neighborhood. Zines are like little homemade magazines. A lot of creativity and range of subjects. Really fantastic!!! I then went to Whole Foods and did some shopping there (I am not often in that part of town, so it is a treat for me). After that I went to Trader Joe's because they were selling pre-brined fresh turkeys. I picked one up for Thanksgiving. Should be good.
Yesterday I went to a bio poetics class about how science can influence poetry. It was really fun and we even had a biology student who also likes poetry attend the class so she had a different perspective to offer. I found out I am a syllable counting geek. I have always liked haiku's, but now have fallen in love with
Fibonacci
poems. There was much else discussed too.
Onto a couple of pictures. My haircut:
Zines I got at Zine Fest: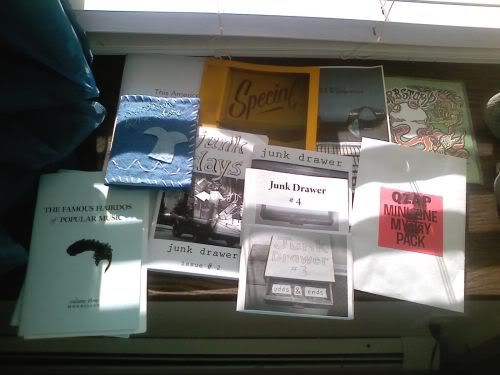 A Fabonacci is supposed to start with a zero, so a sigh will serve as my zero. Here is my poem:
*sigh*
I
One
Alone
Wanting you
You not wanting me
But I want to make you happy
You don't know me but I want you to give me a chance
You don't know that I am peace, calm, happiness, laughter, creative, hard working, and love
You are sunshine in a smile, beautiful eyes gleaming, great energy to light the world, a loving soul, warm as a summer day, I want you
************************************************************
Ok, I better go, still much to do before I leave work this morning.