So it has been a million years (or 6 months?) since I have had a blog post. Silly me. CocoRosie is worth the time and effort though. So I saw CocoRosie last night (June 19th 2010) at the Barrymore theater in Madison Wisconsin. I was really dreading the idea of driving back to Milwaukee late at night (as I get sleepy and sleepy behind the wheel is not a good idea). I thought of camping near Madison, but there weren't any reservable spots left so I had to take my chances. Luckily I found one Saturday morning, set up camp, wrote a poem for CocoRosie (which I put on my
poetry blo
g)and then knitted. I left the campground about 10 after 6pm assuming that they would open the doors at 7pm. When I got there, no one was waiting outside, but shortly after a group came in to get their tickets. We were told we needed to wait outside and told where to start the line outside. I was first and this group of young people were second. I got to talking to the one woman Jodi, who I found out was the mom of the younger girl and Jodi is closer to my age. Her daughter had a couple of friends there as well. It was her daughters 18th birthday that day. I hung out with them during the duration of the concert and Jodi and I plan on staying in touch and being friends. That was an unexpected and wonderful surprise.
Diane Cluck opened for CocoRosie. I had heard of her, but not heard her. I really loved her. She does folk music, but it is the kind of folk that I like (folk music can be really hit or miss for me). I got to meet her briefly after her performance and after the CocoRosie concert. Jodi and I managed to stand right by the stage right in front of where Bianca stands. It was amazing. Everyone loves Bianca. I just don't know what it is about her. Sierra was just so bright and energized. Almost all of my favorite songs were played. During the song "Hopscotch" they did the hand clap game all little girls do (pictured below). They have a beat box guy who did a solo performance that was nothing short of stunning. I don't know what details to go into, the whole night was amazing. I will say I was surprised to learn that Bianca plays so many wind instruments. Yep, I'm majorly in love.
Here are the pictures: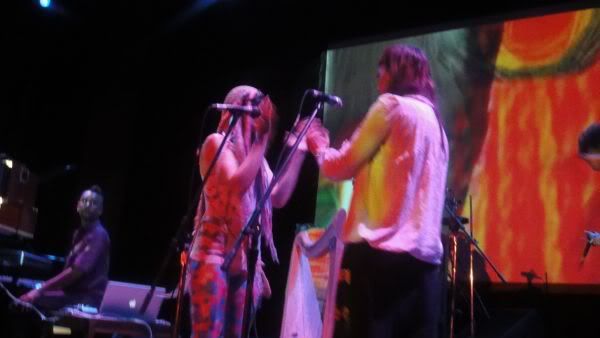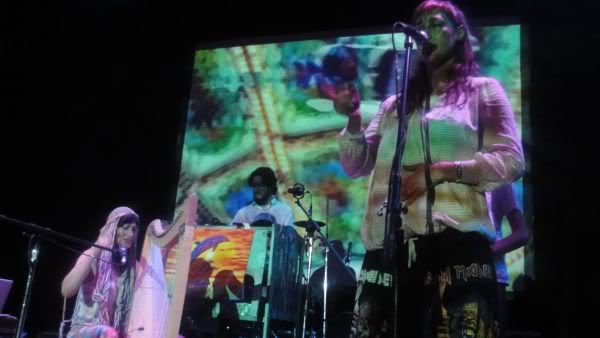 You can find all the pictures at
Flickr
.
And a video I made of them performing "Werewolf".
CocoRosie - Werewolf - Madison June 19 2010 from Jeanette Alred on Vimeo.